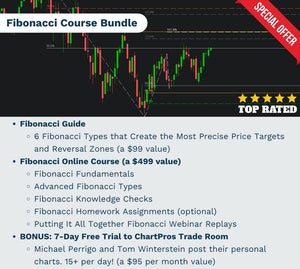 Traders Helping Traders!  Please consider multiple quantities!!!
Fibonacci, often referred to as "Fibs", are one of the most commonly used tools in Price Action Trading for trending markets in helping create measured price movements which can assist you in creating bi-directional future levels of interest and anticipate trend reversal zones.

However, Fibs are often used incorrectly by retail traders causing lost or missed opportunities.

Why do we think that is? Because most Fibs that we see posted on the internet by retail traders are not drawn or used correctly and we realize that most traders didn't learn from institutional traders that understand how the trading algorithms are developed and used by professional traders.

As a skilled trader like yourself, it's essential to stack the odds in your favor and become the casino.

That's why we're excited to introduce our comprehensive Fibonacci online course, specifically designed for those who want to master all aspects of Fibonacci and dominate the trading world!

Traders Helping Traders!