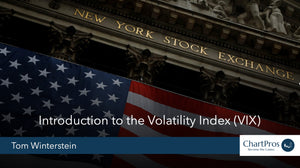 No credit card needed but you will need to create an account to safely access the slides.
You don't want to miss this because the VIX moves inversely to the indices and can often be an indicator of upcoming market moves.
The VIX (ticker symbol /VX) is a real-time market index that represents the market's expectation of 30-day forward-looking volatility. Derived from the price inputs of the S&P 500 index options, it provides a measure of market risk and investors' sentiments. It is also known by other names like "Fear Gauge" or "Fear Index." 
Investors, research analysts and portfolio managers look to VIX values as a way to measure market risk, fear and stress before they make trade decisions.
The VIX Index is the first benchmark index introduced by Chicago Board of Exchange (CBOE) to measure the market's expectation of future volatility. Being a forward looking index, it is constructed using the implied volatilities on S&P 500 index options (SPX) and represents the market's expectation of 30-day future volatility of the S&P 500 index which is considered the leading indicator of the broad U.S. stock market. Introduced in 1993, the VIX Index is now an established and globally recognized gauge of U.S. equity market volatility. It is calculated in real-time based on the live prices of S&P 500 index. Calculations are performed and values are relayed during 3:00 a.m. CT and 9:15 a.m. CT, and between 9:30 a.m. CT and 4:15 p.m. CT.
Recorded November 10, 2020